ATSC 3.0 Broadcasts to Deliver AWARN Data for Connected and Autonomous Vehicles
Advanced Emergency Alerting Highlighted in First Demonstrations of Automotive Applications of Next-Gen Broadcasting
The first public demonstration of important new business-to-business applications of ATSC 3.0 exemplifies how the Internet Protocol (IP) based broadcast standard will enable data services – especially delivery of AWARN advanced emergency alerting – for the connected and autonomous vehicles of tomorrow.
Robust over-the-air transmission of massive quantities of bits to vehicles opens new opportunities for automakers and drivers as well as broadcasters and manufacturers. These new B2B applications complement ATSC 3.0's proven capabilities for delivery of 4K Ultra HD, immersive audio and interactive services.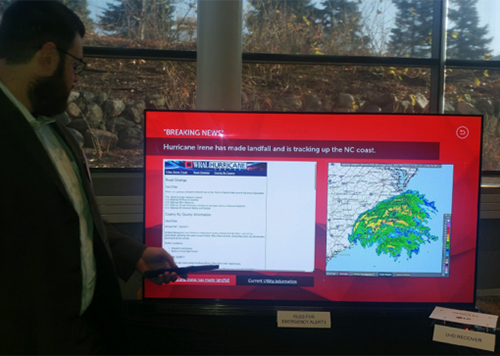 Landmark Demonstration
Sinclair Broadcast Group transmitted AWARN advanced emergency alerting and data telematics firmware updates from Detroit Channel 56 (on loan from Dish Network) to Ann Arbor, Mich., for the landmark demonstration during an automotive technology conference there.
The signals, which included 4K Ultra HD and 2K HD programming in the same 6-MHz channel, were received in Ann Arbor using a simple antenna and shown on displays with receivers and chips based on the approved ATSC 3.0 Physical Layer standards.
Small- and large-screen displays and receivers were provided by LG Electronics. DS Broadcast provided the HEVC and DASH encoders, and DigiCap provided the signaling server and multiplexer. AWARN capabilities are supported by technology partners Triveni Digital and Monroe Electronics.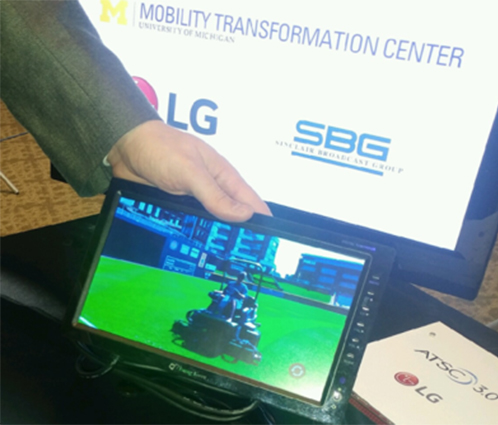 AWARN, Telematics, Infotainment and More
Unlike cellular-based technologies, broadcasting's one-to-many architecture is highly scalable, serving millions of devices simultaneously without straining the network. That means broadcasters can send 4K content to Ultra HD TVs in consumer homes and, at the same time, deliver data to cars – for everything from telematics and infotainment to diagnostics and emergency alerting.
For example, in addition to targeted AWARN data, ATSC 3.0 signals will be able to deliver software updates for electronic control systems and firmware downloads for navigation devices. Other geo-located applications will include real-time weather services, traffic reports and targeted ads. ATSC 3.0 will help transform infotainment with robust technology to deliver digital audio and video services, too.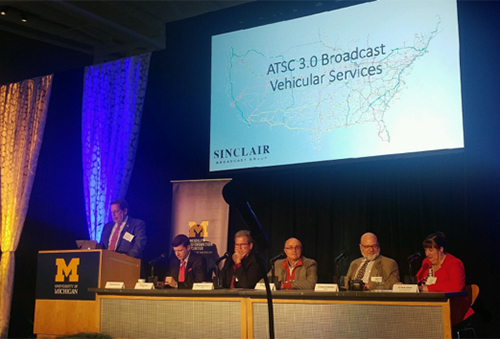 Highlighting AWARN capabilities for automotive applications, Mark Aitken, Sinclair's Vice President, Advanced Technology, says: "Think of vehicles as large mobile devices with multiple imbedded computer-based systems, requiring wireless, high-data-rate connectivity. And with autonomous vehicles, data needs will only increase.
"The new broadcast standard was designed with 5G convergence in mind," said Aitken, who spoke at the conference about the benefits of ATSC 3.0's fat IP data pipe and robust transmission capabilities for the automotive industry.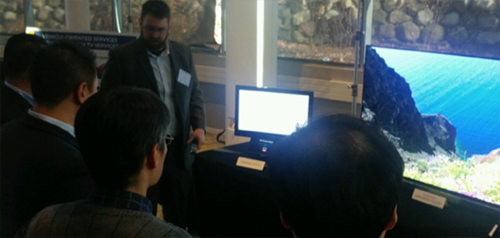 The AWARN automotive demonstration was conducted during a conference hosted in mid-November by the University of Michigan Mobility Transformation Center. (www.mtc.umich.edu) MTC is a public-private partnership dedicated to advancing the development of connected and automated vehicles to improve safety, conserve energy and increase accessibility to transportation. LG, a member of MTC's Leadership Circle of industry partners, partnered with Sinclair for the event.