AWARN at 2015 ATSC Broadcast TV Conference
by FIONA JAMES, Convergence Services, Inc.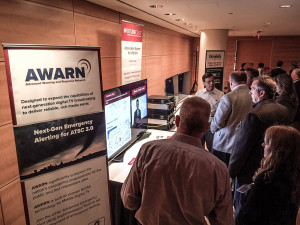 Rapid progress toward development of the next-generation television broadcast platform, ATSC 3.0, was on full display on May 13th and 14th at the Ronald Reagan Building in Washington D.C.  The Advanced Television Systems Committee's 2015 Broadcast Television Conference was also the place to hear industry experts offer their insights on the future of broadcast TV. It was clear the future is bright indeed!
The Advanced Warning and Response Network (AWARN) was demonstrated during the conference with various ATSC 3.0 related technologies. An LG 4K Ultra HD TV showed glorious views of a Greek costal village as the AWARN banner appeared on-screen. (The stunning images of Greece had me craving grilled octopus and olives!)
The AWARN demo alert consisted of an on-screen banner with the option to access rich media. A single click away were video, radar images and maps from a hurricane emergency scenario created by AWARN pioneer WRAL/Raleigh. It was easy to navigate – very user friendly and almost intuitive.
Invited members from Federal Emergency Management Agency's IPAWS team viewed the AWARN demonstration a number of times. They expressed considerable interest in what they saw. "Emergency managers could really get a sense of what is possible in next-gen alerting with this demo," said one member of the IPAWS team.
The AWARN demonstration was the centerpiece of the FUTURECASTTM display by LG Electronics, GatesAir, and LG's Zenith R&D Lab. FUTURECAST technologies are being considered for the final suite of ATSC 3.0 standards, which are moving toward candidate standard status expected by the end of 2015.
A session on "Business Issues Surrounding the Incentive Auction and the Future of Television" had panelists expressing differing views on the spectrum auction. All agreed that broadcast spectrum is a highly valuable asset. How best to actualize that intrinsic value was the hot topic.
Former FCC Chairman Richard Wiley moderated an afternoon panel – "Industry Leadership Roundtable: The Future of Television." NCTA's Michael Powel, CEA's Gary Shapiro and NAB's Gordon Smith participated in a discussion ranging from retransmission consent to net neutrality and of course ATSC 3.0. Each panelist expressed strong support for ATSC 3.0 and its business potential.
Advanced Emergency Alerts such as AWARN are a core component of ATSC 3.0. This is something that the broadcasters and Capitol Hill can get behind, in part because all emergencies are local in nature. We have already seen strong interest from the FCC, FEMA, and other federal agencies. NAB's Smith stated, "Localism is the glue that brings communities together. Congress believes in it." Broadcasters epitomize localism. That's how they stay relevant, and, as was clear from the conference, ATSC 3.0 is what they must do in order to survive.