Broadcast Alerting for 21st Century Mobile America
AWARN – the Advanced Warning and Response Network – is 
"the next generation alert and warning system for the mobile America of the 21st century
." So says 
TV Technology
 in a comprehensive article that highlights the momentum behind advanced alerting with the ATSC 3.0 broadcast standard.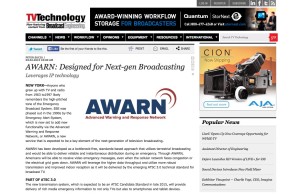 "Through AWARN, Americans will be able to receive video emergency messages, even when the cellular network faces congestion or the electrical grid goes down. 
AWARN will leverage the higher data throughput and utilize more robust transmission and improved indoor reception 
as it will be delivered by the emerging ATSC 3.0 technical standard for broadcast TV," writes Peter Suciu in his March 2015 
TV Technology
 article, "AWARN: Designed for Next-gen Broadcasting."
Of special interest 
to both the public safety community and broadcasters is the fact
 that "
AWARN and ATSC 3.0 will integrate seamlessly with the federal Integrated Public Alert and Warning System
, managed by the Federal Emergency Management Agency. Alerts generated by FEMA or state, regional, or local authorities already trigger limited broadcast and text alerts to be received by viewers and listeners," according to 
TV Technology
.
Moreover, Suciu writes, the addition of AWARN Emergency Alerts means that 
devices equipped to receive AWARN signals can be easily triggered by IPAWS
 to display video, photos, audio and text alerts to a variety of specially-equipped devices. Broadcasters have extensive newsgathering and weather information already available to them such as remote pick-ups and Doppler radar.
In 
Broadcast Engineering Extra
, under the headline "The future of broadcast alerts," veteran industry journalist Bob Kovacs calls AWARN
, "a new service expected to be a key element of next-generation television broadcasting (that) will t
ackle emergency alerts in an entirely new way to accommodate our growing use of mobile and 'smart' technology.
"
 See Article Here
Kovacs conducted a wide-
ranging 
Broadcast Engineering
interview with AWARN pioneer and Convergence Services President John Lawson, who concludes: 
"AWARN is being designed primarily as a public alerting system, but it will be highly flexible. We've also attracted considerable interest from first-responders, who also face the same problem of wireless network overload when something bad happens. We hope to stimulate a 
robust dialogue between broadcasters and public safety officials about the best ways to serve the community in emergencies
."