TVN TECH – Emergency Alert Testing Hopeful Sign For 3.0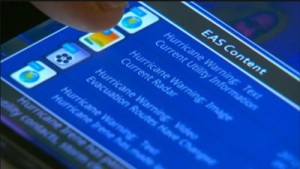 TVNewsCheck, 
The Federal Emergency Management Agency (FEMA) announcement this week that it's testing the next-generation AWARN television emergency alerting is a sign that — at least in certain quarters of the government — ATSC 3.0 is beginning to get some respect.
"It's an example of federal recognition of the value of ATSC 3.0," says John Lawson, senior adviser to the Advanced Warning and Response Network, AWARN, coalition and president of Convergence Services  Inc., an Alexandria, Va.-based regulatory and technology consultancy.
Advanced emergency alerting, commonly referred to as AWARN, an umbrella acronym that also covers a group of broadcasters backing this next-gen warning technology, is a fundamental part of the ATSC 3.0 next-generation television standard being put together by the Advanced Television Systems Committee.
Rather than simply offering emergency on-screen TV text crawls with text-to-speech support for the visually impaired, AWARN provides broadcasters and those in the emergency management community with a way to reach the public with alerts and supplementary information — including video and audio clips, graphics, still images, radar images, maps of evacuation routes, lists of emergency shelters and other potential lifesaving advisories — on their smartphones and mobile devices as well as their fixed television sets.
"The relevance of the FEMA testing is that it demonstrates the continued interest of the agency in the future of broadcast technology and the role broadcasters play in the public alerting environment," says Ed Czarnecki, senior director, Strategy & Global Government Affairs Digital Alert System, a leading developer and vendor of broadcast emergency warning systems.
"The importance of that can't be overstated."
FEMA, which announced the AWARN testing on Oct. 20, did not make a spokesperson available for comment before publication of this story.
For the broadcast industry, which in recent years has frequently questioned whether the FCC continues to value OTA television broadcasting as the agency prepares for its spectrum auction and TV band repack, the FEMA tests are a hopeful sign.
"Obviously, for FEMA to get involved with what we are doing, they must see some value," says Jay Adrick, an independent consultant, former Harris Broadcast (now GatesAir) VP and chairman of the ATSC Advanced Emergency Alert Implementation Team.
The FEMA announcement comes on the heels of ATSC's adoption as a candidate standard of its next-gen transmission system, known as the ATSC 3.0 physical layer.
That progress "validated everything we have told FEMA" about the viability of the AWARN technology, Lawson says.
The test also comes at a time when there is a growing recognition among those in the alerting community that the wireless emergency alert system (WEA), the 90-character text alerts sent to cell phones, in many cases may be counterproductive to promoting public safety during an emergency, Lawson says.
"Actually, the 90 characters leads to a process called 'milling,' which is a term defined by social scientists," Lawson explains. "It refers to the behavior of people in the absence of complete information. They freeze or begin searching for other information."
Frequently the 90-character message advises the public to consult local media for more information on an impending emergency rather than taking action to promote their own safety.
When the alert text goes off, the first thing many people do is to attempt to stream additional information on their cell phones from a local broadcaster, which compounds the problem with the 90-character messages by crashing the cell network, he says,
"The emergency management community has a name for that. It is called 'unintentional denial of service,' " Lawson says, which alludes to the cyberattack strategy frequently employed to crash corporate and government servers by overwhelming them with data requests.
AWARN warnings and supplemental emergency information delivered via ATSC 3.0 will sidestep the cellular network and the milling phenomenon by relying on broadcasters' big-stick coverage of large geographical areas to deliver all of the information the public needs to take immediate action, Lawson adds.
ATSC 3.0 advanced emergency alerting is built on the foundation of work done to enable rich media to be delivered to mobile DTV receivers as Mobile EAS, or M-EAS, warnings — part of the ATSC A/153 standard.
In fact, what FEMA actually is testing is A/153 M-EAS, Adrick says.
Although mobile DTV stalled in the marketplace, the industry learned several things from it, including this new approach to alerting, adds Lawson.
"The workflows we developed for Mobile EAS in terms of connectivity with FEMA and what passes through the station infrastructure can be directly transferred to AWARN," he adds.
ATSC is at work "bolting on" a couple of new capabilities to M-EAS rich media, including device wake-up for times when an alert is issued and a mobile device or fixed TV set is off and the ability to allow consumers to choose to receive alerts and updates to alerts that pertain to them and disregard those that don't, Adrick says.
These new capabilities, however, won't make the final advanced emergency alerting capability of ATSC 3.0 different than what is in the FEMA lab for the purposes of its testing, he adds.
For many broadcasters, implementing AWARN capability will be a matter of a simple software upgrade rather than a new hardware purchase.